Shape Our Fremont
Where Fremont residents can learn about shaping proposed housing developments...
CITY CENTER APARTMENTS (PLN2017-00094): 38631 Fremont Blvd.
Application's City Staff Project Planner: James Willis jwillis@fremont.gov

Approved by Planning Commission October 12, 2017

No City Council Review Necessary

: This application is not a Planned District and will conform to the current zoning. The Planning Commission is the approving body. Only if the Planning Commission decision is appealed would it go before the City Council. See

Approval Body

section of the Process page.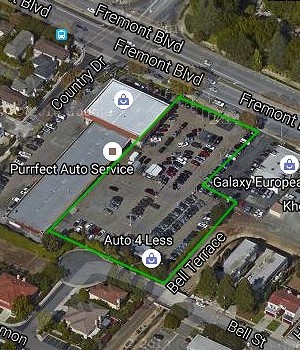 The City Center Apartments development proposed by Robson Homes and Allied Housing is located on Fremont Blvd. near Country Drive. It is in the Centerville Community Plan Area.
This is the Auto 4 Less lot across from Washington High School.
Previously FREMONT BOULEVARD SUPPORTIVE HOUSING PRP (PLN2017-00015)
The public may arrange to view the development plans by contacting the Application's City Staff Project Planner: James Willis jwillis@fremont.gov