Shape Our Fremont
Where Fremont residents can learn about shaping proposed housing developments...
DRISCOLL RD TOWN HOMES (PLN2013-00161): 3817 Driscoll Road
Application's City Staff Project Planner: Terry Wong twong@fremont.gov

City Council approved development on 7/16/13

Planning Commission recommended approval 6/27/13



Planning Commission Report with links to Exhibits and Plans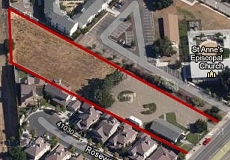 Development Plan
The Driscoll Rd Town Homes development proposed by Summerhill is located at the Church of Christ property at 3817 Driscoll Road. It is in the Mission San Jose Community Plan Area.
A few neighbors attended a Community Courtesy meeting held by Summerhill on April 25th.
The public may arrange to view the development plans by contacting the Application's City Staff Project Planner: Terry Wong twong@fremont.gov