Shape Our Fremont
Where Fremont residents can learn about shaping proposed housing developments...
PALM AVENUE SUBDIVISION (PLN2016-00170): 42410 Palm Ave
Application's City Staff Project Planner: David Wage dwage@fremont.gov

Planning Commission approved development on 4/28/16

Planning Commission Agenda

March 14th Summerhill Neighborhood Meeting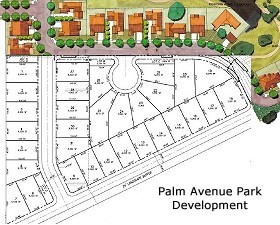 The Palm Avenue Subdivision development proposed by SummerHill Homes is located at the rear of 42410 Palm Ave. It is in the Mission San Jose Community Plan Area. SummerHill Homes has now submitted a formal application.

Palm Avenue Area Map
The proposed Palm Avenue Planned District is not part of, or an extension of, the Mission Creek Planned District.
The public may arrange to view the development plans by contacting the Application's City Staff Project Planner: David Wage dwage@fremont.gov
Previously
PALM AVENUE PLANNED DISTRICT PLN2014-00020