PARC 55 SENIOR VILLAGE (PLN2014-00045): 47315 Mission Falls Ct.
Application's City Staff Project Planner: Steve Kowalski skowalski@fremont.gov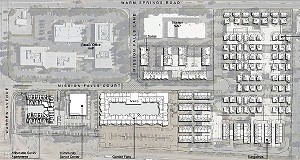 Parcels Location

City Council approved development on 2/16/16

Feb. 16th Agenda

Planning Commission recommended approval Jan. 28th

Planning Commission Agenda

Environmental Review Initial Study

Unit Mix Description from Initial Study
The PARC 55 Senior Village development proposed by East Warren Park LLC is located off of Warren Ave. at Warm Springs Blvd. It is in the Warm Springs Community Plan Area.
The public may view the development plans by contacting the Application's City Staff Project Planner: Steve Kowalski skowalski@fremont.gov