Shape Our Fremont
Where Fremont residents can learn about shaping proposed housing developments...
WARM SPRINGS TOD VILLAGE (PLN2015-00174): 44960 Warm Springs Blvd.
Application's City Staff Project Planner: Wayland Li wli@fremont.gov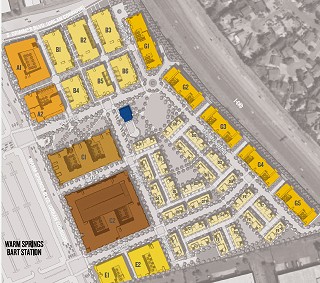 Warm Springs TOD Village Master Plan

Location Map

City Council approved on July 21st



July 21st Agenda
Planning Commission recommended approval of Master Plan Thursday, June 18th

Planning Commission Agenda
The Warm Springs TOD Village Master Plan proposed by the Warm Springs Station Group (Toll Brothers and Van Meter Williams Pollack) is located across Warm Springs Blvd. from the future Warm Springs BART station. It is in the South Fremont Community Plan Area.
The public may view the development plans by contacting the Application's City Staff Project Planner: Wayland Li wli@fremont.gov
Previously WARM SPRINGS STATION PRP PLN2013-00234