Shape Our Fremont
Where Fremont residents can learn about shaping proposed housing developments...
OLD WARM SPRINGS BOULEVARD SOUTH MASTER PLAN [PLANNING AREA 3] - VALLEY OAK PARTNERS (PLN2016-00072)
Application's City Staff Project Planner: David Wage dwage@fremont.gov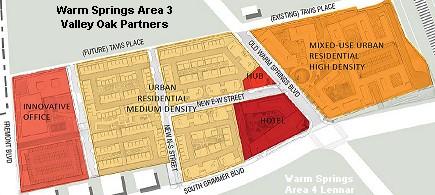 Area 3

Area 3 Master Plan
WARM SPRINGS AREA 3 APARTMENTS - PLN2017-00215
Mixed-Use Urban Residential High Density section east of Old Warm Springs Blvd.
Approved by Planning Commission August 24th
Master Plan entitlement puchased by Fairfield Warm Springs, LLC
Affordable Housing to be managed by Fairfield
City Council Approved April 5th
Planning Commission Hearing Feb. 25th
Planning Commission Agenda
Environmental CEQA Documents
The Warm Springs Area 3 is located north of Warm Springs Area 4 - Lennar near the future Warm Springs BART station. It is in the South Fremont Community Plan Area.
Area 3 is bounded by Fremont Blvd., the BART tracks, S. Grimmer Blvd. and an extension of Tavis Place.
The public may view the development plans by contacting the Application's City Staff Project Planner: David Wage dwage@fremont.gov